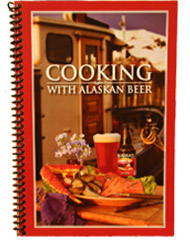 Alaskan Brewing Co., which has long featured recipes in his newsletters and on its web site, has released its first cookbook.
Cooking with Alaskan Beer is a compilation of 101 recipes created and perfected by the employees, family and friends of Alaskan Brewing.
For the last 20 years, the brewery has hosted a friendly competition known as the Brew Crew and Investor Cook-off. In the early years, the crew and investors decided to celebrate the coming winter season with a potluck and a challenge to create best recipe using an Alaskan beer. As the years passed, friendly rivalries developed and local chefs and food enthusiasts were brought in to judge the recipes.
One of the perennial cook-off judges, Stefani "Chef Stef" Marnon, leant her culinary expertise to narrow down and edit the several hundred crew recipes to 101. "We searched through and tested hundreds of creative and delicious recipes to create this collection," she said. "Which means we have hundreds more to include in future editions."
"Seeing our recipes in print was really exciting," said Alaskan production assistant Tom West, whose family has several recipes included in Cooking with Alaskan Beer. "It will definitely add a more competitive edge to next year's Cook-Off."
Cooking with Alaskan Beer is available for purchase at the Alaskan brewery and Hearthside Books in Juneau, or at the brewery's online Gear Store.
Here's one of the recipes from the book:
Halibut Enchiladas
1 1/2 pounds halibut, 1 inch cubs
6 ounces Alaskan Amber
1/3 chopped onion
3-ounce can diced green chiles
16 ounces sour cream
shredded cheddar and mozzarella
flour tortillas
10-ounce can enchilada sauce
12-ounce can tomato soup
1/2 diced tomato
cilantro
your favorite hot sauce
Pour Alaskan Amber over raw halibut in a bowl and allow to soak for approximately 1 hour. In a saute pan, poach halibut in beer until halibut flakes apart – do not overcook. Drain beer and add onions, chiles and sour cream. Steam tortillas and fill with mixture, roll-up, put in pan. Mix enchilada sauce, tomato soup, diced tomato, cilantro and pour over tortillas then cover with cheese. Bake at 350 degrees for 15 minutes. Serve with hot sauce, salsa and sour cream.