Sunday's Holiday Beer of the Day comes to us from Bend, Oregon, and is their 21st annual holiday beer with a different label. Deschutes Jubelale for 2008 is 6.7% abv and 60 IBUs.
But did you know that Jubelale was the first beer ever bottled by Deschutes Brewery? Every year, fall's crisp, cool air signals the imminent arrival of winter. Thoughts of snow, friends and family, the holidays, and — Jubelale. Brewed with dark crystal malt creating a luscious holiday note with bountiful hops to excite your taste buds— it's easy to see why Jubelale is the perfect complement to the season.
Every year Deschutes Brewery selects a Northwest artist to create an image evocative of the season's festive atmosphere. In 2008, Pam Jersey Bird, who lives in Sisters, painted a winding, abstract river running through the open spaces of Central Oregon's desert, surrounded by fluttering snowfall.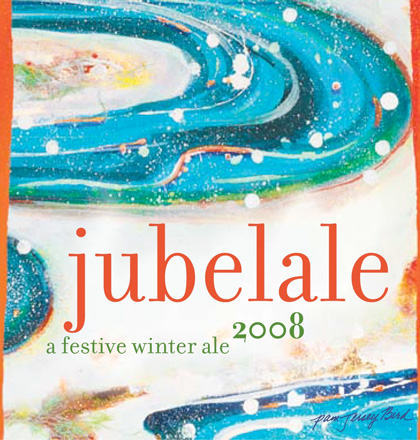 "Because Jubelale is 'A Festive Winter Ale,' I wanted to portray a scene that was lively and colorful but also captured Central Oregon's snowy climate," says Pam Jersey Bird. "I decided to focus on the river that is the namesake of the brewery and also inspired the name of our town. Emphasizing the curve of the bank, I added snowflakes and ice crystals, which surround the blue moving waters of the Deschutes River." More of Pam's work can be viewed at her website.