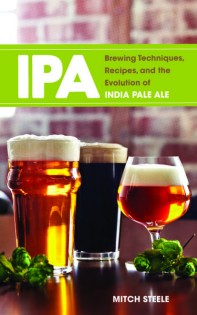 What should "the authoritative guide to the brewing techniques and history behind" India pale ale include?
– A complete and accurate history of the style, one that addresses the various myths. Check.
– Plenty of historic recipes. Check.
– Lots of recipes for modern day versions, including many variations, and details about ingredients and process. Check.
– All the data beer and brewing geeks could ask for, packed into handy appendices. Check.
– An author who knows a little about brewing IPAs. Check.
The book is IPA: Brewing Techniques, Recipes and the Evolution of India Pale Ale and the author is Mitch Steele, head brewer at Stone Brewing Company.