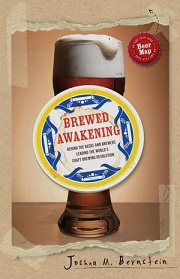 The full title — Brewed Awakening: Behind the Beers and Brewers Leading the World's Craft Brewing Revolution — is a mouthful, but properly describes the tour author Josh Bernstein takes readers on in this recent release.
As Bernstein explained in an interview at Zester education has been a cornerstone of craft beer growth, and that includes "learning by drinking."
The challenge for the novice is not only figuring out where to begin, but where to go next. Bernstein provides easy directions, for instance, first explaining what hops contribute to beer and then introducing cutting-edge varieties. Bernstein considers where beer is going as much as where it has been, and no review is likely to complain the book is "so 2008."
The topics covered — from gypsy brewers to session beers to old styles made new — are current enough for blog posts. And most often come with tasting notes.