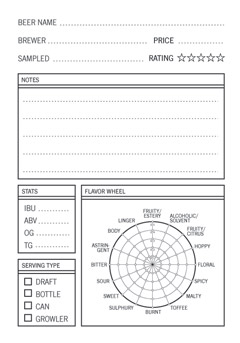 It's creators describe 33 Bottles of Beer as a "beer sketchbook."
At three-and-a-half by five inches it slips easily into a pocket and provides a degree of organization to note taking that sometimes starts to disappear during an evening of beer drinking. It contains, as you might have guessed by the name, 33 pages for notes.
A page is pictured on the right. You'll notice it includes a flavor wheel that allows you to rate the intensity of certain flavors or aromas. You can even connect them to create what is known as a spider chart, particularly fun to analyze after a few beers.
Publisher BS Brewing is located in Portland, Oregon, and the book is available at some retailers in the area, selling for $4 a booklet or three for $10. For more information or to order visit 33beers.com.