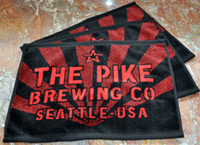 There are plenty of smaller beer related items — including a bottle of beer itself — that fit nicely into a stocking. Gift certificates, bottle openers, many of the items listed here during the past month.
However, we're partial to bar towels. They are versatile, soft when you want them to be, and fold nicely into a stocking.
The one pictured here is from Pike Brewing in Seattle, but you may well be able to locate one in your local brewery's gift shop.