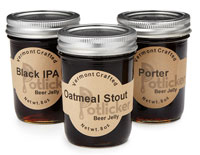 It's a silly pun, but we can't resist.
These jellies made with beer aren't just for breakfast. Here's the story from the website:
"The indulgence of craft beer meets handmade, small batch preserves in this set of beer jellies—including one each of IPA, Black IPA, Porter and Oatmeal Stout. Intrepid former archaeologist and hardcore foodie Nancy Warner moved to Vermont and, inspired by the bountiful local food and beer culture, transformed a variety of beers from notable local craft breweries into enticingly unique jellies. The traditional ingredients of beer (hops, malt and yeast) are rendered into jellies that balance malty sweetness with the hop profiles of the beer styles used: floral and spicy notes in the IPA and Black IPA, smoky-sweet in the porter, roasty and earthy in the stout. Add a distinctive touch to cheese platters, use them to glaze meats, mix them in cocktails and salad dressings, use them for irresistible baking (like peanut butter and porter muffins), or indulge in a grown-up pb&j!"
Only in Vermont.