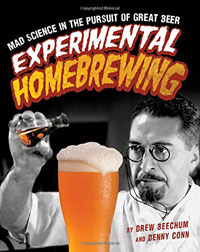 The cover of this book includes the words "mad science" and the fellow on the front has that certain look. No surprise that the 30-plus recipes in this book include beers made with mushrooms and watermelon (different beers, but in the spirit of the book you can do whatever you want).
However, authors Drew Beechum and Denny Conn — both "can I have my picture taken with you?" superstars in the homebrewing community — also are interested in experiments that include ways to make beer better. They ask questions like: Do you get different hop aromas from hops steeped at different temperatures? Can you change your flavor and aroma characteristics by pitching different amounts of yeast?
"Experimental Homebrewing: Mad Science in the Pursuit of Great Beer" comes with a list of coded experiments, so you can feel like a scientist yourself.