Battle of the Beers 2003
We expect that Bert Grant is smiling down from above as he reviews the results of the 2003 voting.
Dogfish Head 90 Minute Imperial IPA defeated defending champion Alaskan Smoked Porter to win the title after knocking off Scottish Ale from the brewery Grant founded in the semifinals.
- All the results.
- Six questions for Dogfish Head founder Sam Calagione.
90 Minute didn't have an easy route to the finals, starting with a victory over veteran Bell's Two-Hearted Ale, then clipping another extreme beer, Arrogant Bastard Ale. Next came narrow wins over Victory HopDevil Ale and the 2002 semifinalist Rogue Shakespeare Stout.
In the most spirited voting in two years of tournament competition, 90 Minute outlasted Grant's Scottish Ale before finishing with the victory over Smoked Porter.
90 Minute takes its name from the fact that pellet hops are added constantly during a 90-minute boil. It is also dry hopped with both flower and pellet hops during conditioning, and the 9% abv finished product is 90 IBUs.
Previously available only in 750ml corked bottles, 90 Minute moves to 12-ounce bottles (sold in 4-packs) April 25, when Dogfish Head will debut 120 Minute IPA, a 21% abv IPA that registers 120 IBUs.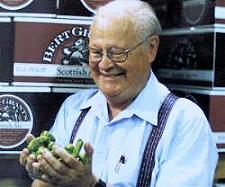 Although Grant, who died in 2001, led the development of hop pellets and insisted that they guaranteed brewers more consistent hops, he still loved fresh, whole hops right off the vine. A few years before he died, he showed members of the press around his Yakima brewery.
Because "Fresh Hop Ale" was being brewed that day there were hop cones around (most times there wouldn't be). So the reporters pulled out their cameras and asked Grant to scoop up a handful as a prop in a photo opportunity. After the camera flashes had gone off and almost everybody had turned their backs, Grant took a single cone and broke it.
He pulled it to his nose, his eyes closed, and a large smile crossed his face.
The April 7 final marked an amazing run by the Alaskan beer, which had won 10 consecutive showdowns. Starting in 2002, Smoked Porter defeated Coors Light, Full Sail Amber, Sierra Nevada Pale Ale, Rogue Shakespeare Stout, Great Lakes Eliot Ness Lager, McTarnahan's Black Watch Porter, Sprecher Black Bavarian Lager, Deschutes Black Butte Porter, Moose Drool Brown Ale and Penn Weizen.
What the heck was this tournament all about? You may find your questions answered in our FAQ.